After only 2 weeks in Buenos Aires, Rob and I felt that we needed to get out of the city and see more of Argentina. So we took the 21-hour bus to San Carlos de Bariloche for 6 days. Visiting Bariloche in March it is normally the start of their fall and starting to cool down, but when we arrived it was 75F every day! This gave us the opportunity to take advantage of the outdoors. Here are some of our reccomendations on what to do and places to eat while visiting Bariloche.
Outdoor Activities:
1. Cerro Campanario
This is THE the best view in Bariloche. It gives you a panoramic view of the mountains and lakes. Truly a spot not to miss! You can either hike up to the top (about 30-40 minutes) or take the chair lift for $120 pesos per person. At the top there is a café where you can get a beer, empanadas, and postres while you enjoy the panoramic view.
2. Horseback Riding
If you have had enough hiking, another great way to see the views is through Horseback Riding. There are many companies in Bariloche, I went with Cabalgatas Haneck, which was a wonderful experience. We did the half-day riding experience (about 2 hrs. of riding) with an Argentina Asado lunch (traditional barbeque) for $800 pesos per person. If you were looking to see the view of the lakes though, I would go with a different company as we only saw the scenery of the national park, which were still beautiful.
3. Fly Fishing
If you have never fly fished in your life or you are a seasoned fisherman, Bariloche is the place to fly fish! Their best season is November – January, if you want to catch the big fish, but I went in March and still managed to catch 6 fish, although they were very small. The water is crystal clear and views are phenomenal. A full day includes all the equipment and a lunch cooked right on the riverbed by your guide (steak, salad, wine, beer and dessert!). This is definitely an excursion to splurge on as it costs about $400 USD for 2 people. I highly recommend Outfitters Patagonia Fly Fishing, their service is fantastic and were able to cater to a newbie and an intermediate fly fisher.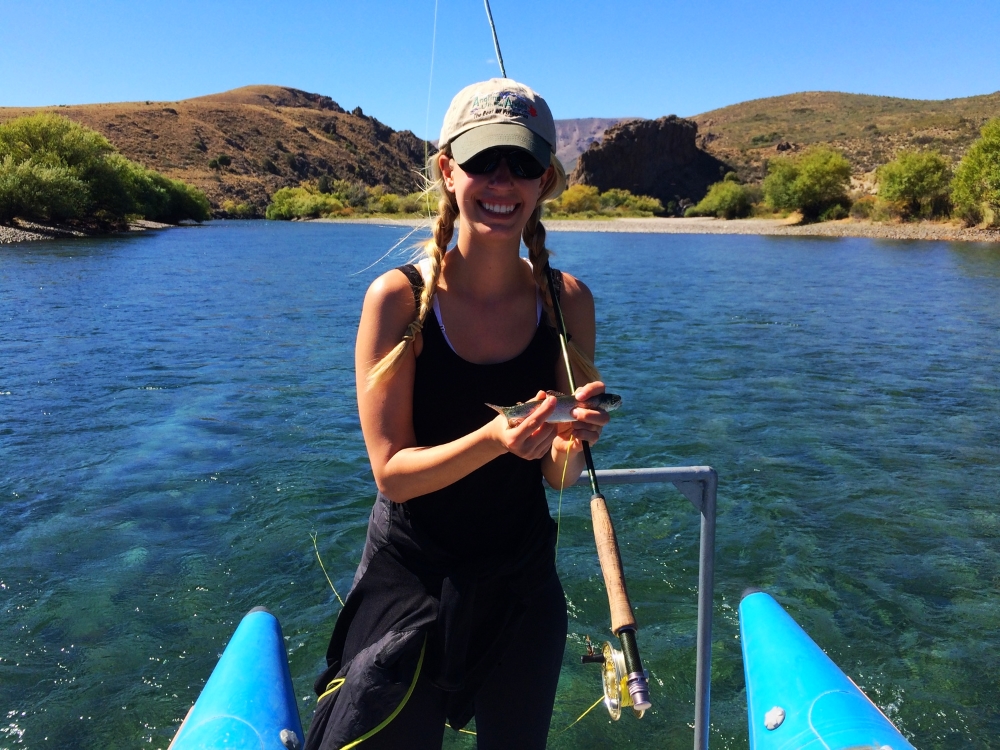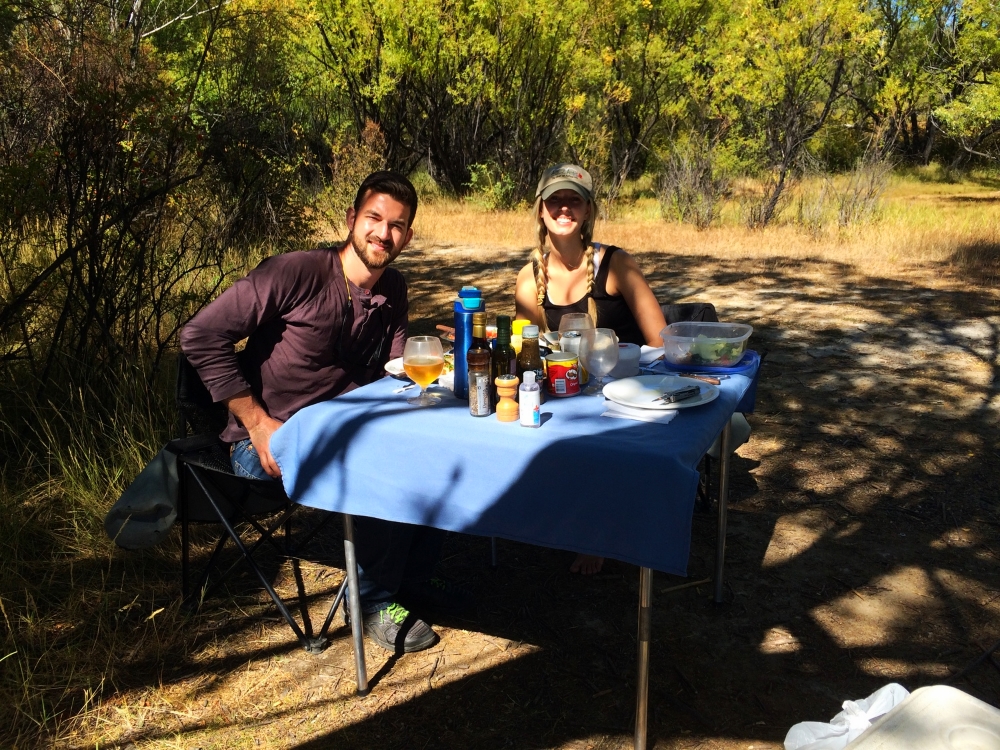 4. Circuito Chico (Small Circuit)
Although I did not end up doing the Circuito Chico myself, you can bike or take a bus to see the beautiful views of the mountain. I spoke to many people in the hostel who said that biking was intense and was 20km round trip, about 12 ½ miles, but worth the adventure and views. You can rent bikes in various parts of the circuit.
5. Parque Municipal Llao-Llao
If you are not a very intense hiker, hiking to the top of Cerrito Llao Llao is a great half-day hike. It took us about 1 ½ hrs. to hike up, brought a lunch and enjoyed the view for about another hour (because it is that amazing). You take the bus 20 from the center of town to the very last stop at Llao Llao hotel. You will walk past the hotel and port about ½ a mile until you see a sign for the park. There are a variety of paths in the area, which also lead to little beaches if you want to relax.
Other suggestions recommended to us that we did not have time to do were:
Rent a car and drive through the seven lakes (full day trip)
Hike up to Cerro Catedral (full day hike)
Visit Colonia Suiza (which has a market on Wednesdays and the weekends)
**Villa La Angostura – I would recommend only traveling to Villa La Angostura if you are passing by or just stopping for lunch. There is much more to do in Bariloche and not worth the 1 ½ hr. bus there.
Places to Eat in Bariloche:
This is my favorite topic because I LOVE to eat. I personally always recommend going to the fancier/more expensive restaurants for lunch, if they are open, as you do not have the pay the dinner charge and they sometimes have great deals on executive menus. Also remember, when you order sides, they are normally sides to share with the table!
1. Milanesa
La Fonda del Tio – This is where you will find great Milanesa for a great price! Rob and I love Milanesa, which is basically veal parmesan, just the Argentine way. Definitely go there for dinner because 1 milanesa is so large it feeds the both of you! Since we are a fan of the Italian veal Parmesan, we got the Milanesa Napolitana, which has a lot of cheese and some sauce. we call it the meat pizza. For two people it cost us under $300 pesos($24USD), which included 2 waters, 2 sides and the meal! It is definitely a local spot so get there in-between 8 and 830 as it fills by 9 and there is a weight. I do not think they make reservations.
2. Beer
Manush – If you're looking for some good beer, good food and fun environment then Manush is the place! They have a downstairs and upstairs outdoor patio and inside seating. Every night the place was packed for their happy hour of ½ off beer! I thoroughly enjoyed the Honey Beer. The food was delicious as well! ***There are many cervecerias in Bariloche so make sure you check the rest out too!
3. Chocolate
Mamuschka – Bariloche is known for it's chocolate and with a chocolate shop on every corner, Mamushka is delicious. We just ate the chocolate, but you can sit and have a pastry or torta with tea or coffee. If you are a dark chocolate fan, you will be out of luck as their limited dark chocolate is sub par in Bariloche.
4. Steak
El Boliche de Alberto – In about a 1-block span there are 3 of these restaurants! Crazy I know, but you can either go to their Parilla (steak house) or their pasta restaurant. I chose the parilla and it was delicious! We ordered a Bife de Lomo, which is tenderloin and tried the lamb as well. We got a side of papas fritas and a salad and wine. We spent about $20USD a person (wine, steak, 2 sides, and water).
Alto el Fuego – I did not have a chance to make it to Alto el Fuego but many people I spoke to who did said it was the best steak they had in all of Argentina! If you get a chance, I would check it out and make a reservation!
5. Mexican
Dias de Zapata – If you are feeling Mexican, then you are in luck! It is definitely not the same Mexican food I am use to in the states but it definitely satisfied my Mexican cravings. I ordered the chicken Fajitas and Rob ordered a Burrito. You will also not get chips and salsa but you will get BREAD and salsa for the table! Interesting, but the "salsa" is quite good since Argentina doesn't do Mexican salsa. Service was average but only go if you are in the mood for Mexican as there are many other great restaurants to try out.
Have you ever traveled to Bariloche? Feel free to share your comments below as to what you did when you visited the city, I would love to hear about other peoples adventures!